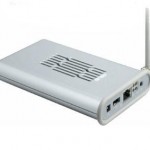 Heb je nog ergens een Asus WL-HDD (wireless harddisk drive) liggen of heb je er juist één gekocht voor een paar tientjes op Ebay of Marktplaats om ermee te experimenteren? Lees dit artikel dan zodat je weet hoe je embedded Linux in de vorm van OpenWrt op dit apparaatje plaatst en vervolgens de WL-HDD in wireless client mode zet.
Er wordt vanuit gegaan dat de originele software nog geïnstalleerd staat. Door het uitvoeren van deze stappen vervalt de garantie op het apparaat. Ook is het mogelijk dat door deze stappen uit te voeren het apparaat onbruikbaar wordt. Ik ben hier niet verantwoordelijk voor. Voer de volgende stappen op eigen risico uit. Stroomuitval en onnauwkeurigheid/slordigheid zijn de grootste vijanden.
Laten we beginnen met het verwijderen van de originele software om vervolgens OpenWrt te flashen.
Voorbereidingen op computer die software gaat flashen naar Asus WL-HDD.
Stap 1: Downloaden van image
Download het bestand openwrt-brcm-2.4-jffs2-4MB.trx (WhiteRussian release van OpenWrt). Het root-filesystem bij dit image is JFFS2 (Journalling Flash File System version 2) dit betekent dat je bestanden ook kunt wijzigen als je ingelogd bent op het device. Dit in tegenstelling tot SquashFS dat read-only is.
Stap 2: Installeren van Firmware Restoration Utility
Als het goed is heb je bij de Asus WL-HDD ook een CD-ROM gekregen. Op deze CD-ROM staat de 'Firmware Restoration Utility'. Installeer deze software op een M$ Windows computer.
Stap 3: Netwerk configureren
Zorg dat op deze computer enkel 1 netwerkkaart actief is en disable alle wireless netwerk devices. Stel de actieve netwerkkaart in op IP-address: 192.168.1.2 met subnet mask 255.255.255.0 DNS en gateway zijn onbelangrijk. Verbind deze computer middels een kabel met een hub/switch om deze vervolgens met een kabel met de Asus WL-HDD te verbinden.
Flashen van OpenWrt naar Asus WL-HDD
Stap 1: Activeer de TFTP-server op de Asus WL-HDD
Om het image te kunnen uploaden moet op de WL-HDD de ingebouwde Trivial File Transfer Protocol (TFTP)-server draaien. Voer hiervoor de volgende stappen uit:
Verwijder de voeding van de WL-HDD.
Druk de reset-button in en houd deze ingedrukt.
Plaats de voeding
Laat de reset-button los zodra de power-led begint te knipperen. Dit is na zo'n 4 seconden. De interval van het knipperen is +/- 1 seconde.
De Asus WL-HDD is nu klaar om een image te ontvangen via de ethernetkabel.
Stap 2: Flash het nieuwe image
Nu gaan we daadwerkelijk het OpenWrt image flashen naar de Asus WL-HDD. Belangrijk is dat de stroomtoevoer niet onderbroken wordt en dat de kabels verbonden blijven.
Start de Firmware Restoration Utility
Kies het nieuwe image: openwrt-brcm-2.4-jffs2-4MB.trx
Start met flashen
Wacht geduldig totdat het flashen klaar is
Na deze stap hoeven we geen handelingen meer uit te voeren met M$ Windows. Mijn dual-boot machine heb ik herstart met Linux als operating system. In de volgende stappen ga ik ervan uit dat de Asus WL-HDD met een ethernetkabel is verbonden (via een switch/hub) met een Linux computer. Stel op de Linux computer de netwerk interface in middels het commando: sudo ifconfig eth0 192.168.1.2 Om de WL-HDD te benaderen moet men immers op hetzelfde subnet zitten. Vervang eth0 eventueel door een andere naam wanneer een ander network interface wordt gebruikt.
Configureren van OpenWrt
Verwijder de voeding van de Asus WL-HDD en sluit deze vervolgens opnieuw aan. Het apparaat zal nu de eerste keer OpenWrt booten.
Shields up: We kunnen nu middels telnet een password zetten.
telnet 192.168.1.220 (inloggen als root zonder password)
Voer nu op de prompt van OpenWrt in: passwd
Vervolgens wordt 2-maal om het nieuwe password gevraagd. Voer 2-maal hetzelfde password in (en onhoud dit).
Het kan zijn dat het zetten van het password de eerste keer fout gaat. Reset de WL-HDD door de voeding te verwijderen en opnieuw de voeding te plaatsen. Begin vervolgens weer met stap 1 (telnet).
Inloggen op OpenWrt met SSH
Vanaf nu kunnen we inloggen op de Asus WL-HDD met SSH (Secure SHell). Dit doen we met het volgende commando: ssh root@192.168.1.220 Voer vervolgens het password in dat je bij de vorige stap in hebt gesteld.
Laten we eens rustig rondkijken op het device. Wat zijn belangrijke zaken?
Met uname -a kunnen we bijvoorbeeld zien welke Linux-kernel er draait en wanneer deze gebouwd is.
dmesg toont ons logging van het boot-proces.
df laat ons de filesystems zien en hoeveel ruimte er nog over is.
cat /proc/cpuinfo toont ons welke microprocessor er in dit device zit.
Met het commando ps auxfww kunnen we zien welke processen actief zijn.
logread toont ons de system-log-file.
Non-volatile random access memory
In de WhiteRussian release van OpenWrt en vaak ook bij andere embedded Linux varianten worden configuratie-variabelen geplaatst in het non-volatile random access memory (NVRAM). Dit is RAM-geheugen dat niet wordt gewist bij het verwijderen van de voeding. Bij een 'normale' Linux-distributie worden dergelijke waarden opgeslagen in de directory: /etc
Om de huidige settings van het NVRAM te zien, kan het volgende commando ingevoerd worden: nvram show | more (spatie voor volgende pagina).
Men kan een variabele een waarde geven middels het commando:

Een specifieke variabele uitlezen kan met het commando:

Het verwijderen van een variabele kan met het commano:

Eén van de nadelen is echter dat dit geheugen niet onbeperkt vaak gewist en geschreven mag worden.  Het maximale aantal wis/schrijfacties ligt op duizenden tot tienduizenden keren. Door het veranderen van variabelen kan het apparaat ook onbruikbaar worden. Bijvoorbeeld omdat je locked out (buitengesloten) wordt.  Denk hierbij aan verkeerde netwerk- of firewall-settings.
Zaak is dus om deze variabelen pas echt naar het NVRAM-geheugen te schrijven wanneer je zeker bent dat de waarden goed zijn. Dit om het aantal wis/schrijf acties te beperken en een lock out te voorkomen. Het reset/poweroff bestendig schrijven naar NVRAM kan met het commando: nvram commit Andersom moet je dit commando ook niet vergeten uit te voeren na het wijzigen van settings, anders ben je deze na een reboot kwijt.
Nieuwe software installeren
De OpenWrt versie WhiteRussian kent een package manager zoals apt-get / dpkg van Debian en Ubuntu. De package manager van OpenWrt (en veel andere embedded linux distributies) is IPKG (Itsy Package Management System).
Voordat we daadwerkelijk updates of nieuwe packages binnen kunnen halen moeten er nog netwerksettings worden gemaakt zodat de gateway naar het Internet bekend is. Ook moet de domain name server nog worden opgegeven. Dit doen we respectievelijk met de volgende commando's:
route

add

default

gw

192.168.1.2

br0

echo

'nameserver 192.168.178.1'

>>

/

etc

/

resolv

.

conf
Als het goed is kunnen we nu de packagelist updaten met het commando:
Ook kunnen we de geïnstalleerde packages updaten met het commando:
Let wel op dat de Asus WL-HDD maar beperkte 'diskruimte' heeft.
ipkg list_installed toont de geïnstalleerde packages en ipkg list toont alle beschikbare packages.
Wireless client mode
Zoals gezegd willen we dit device laten functioneren in wireless client mode en niet als wireless access point. Hiervoor moeten we een aantal dingen doen. Allereerst moeten we de packages 'Proprietary Broadcom utility for setting wireless driver parameters' (wl) en Proprietary Broadcom WPA Authenticator/Supplicant (nas) installeren. Dit doen we met de comando's:
Nu zorgen we ervoor dat de firewall en DHCP (Dynamic Host Configuration Protocol)-server niet worden gestart bij het booten. Dit doen we door het execute-bit te verwijderen van de desbetreffende initialisatie-scripts:
chmod

-

x

/

etc

/

init

.

d

/

S35firewall

chmod

-

x

/

etc

/

init

.

d

/

S45firewall

chmod

-

x

/

etc

/

init

.

d

/

S60dnsmasq
Dit zorgt wel voor een onschuldige melding (Permission denied) in de system-log maar daarnaast is het eenvoudig om de scripts weer actief te maken door het execute-bit weer te zetten.
Herstart de Asus WL-HDD nu een keer zodat de firewall geheel open staat. We kunnen dit ook doen met IPTABLES, maar een reboot is veel sneller en eenvoudiger.
Wanneer je opnieuw bent ingelogd met SSH is het nu tijd om de NVRAM-settings aan te passen zodat de Asus WL-HDD verbinding gaat maken met het wireless accesspoint.
In dit artikel wordt ervan uitgegaan dat men gebruik maakt van een 'FRITZ!Box Fon WLAN 7170 Annex A' als accesspoint die nieuwe WLAN-devices toestaat (Allow all new WLAN devices). De radio-instellingen zijn: WLAN standard: 802.11g+b, Channel: 2 en Enable 802.11g++).  Voor security is gekozen: WPA encryption, WPA mode: WPA2 (CCMP). De WLAN key moet ingevuld zijn en hebben we nodig met het instellen van de NVRAM-variabele: wl0_wpa_psk. Het WLAN subnet van de FRITZ!Box is: 192.168.178.x Het configureren van de FRITZ!Box valt buiten de scope van dit artikel.
Stel eerst de wireless interface (wl0) in.
nvram

set

wl0_ifname

=

eth2

# wireless network interface

nvram

set

wl0_mode

=

sta

# wet = bridged client sta = routed client

nvram

set

wl0_ssid

=

FRITZ

!

Box

\

Fon

\

WLAN

\

7170

\

Annex

\

A

nvram

set

wl0_wpa_psk

=

xxxxxxxxx

# WLAN key

nvram

set

wl0_radioids

=

BCM2050

nvram

set

wl0_distance

=

2000
Merk op dat we met \[spatie] voor 'FRITZ!Box Fon WLAN 7170 Annex A' een spatie kunnen weergeven. Vul voor wl0_wpa_psk=xxxxxxxxx de juiste waarde in, deze waarde kan in het wireless accesspoint bijvoorbeeld aangeduid zijn als: WLAN key.
LAN-settings
Stel eerst de LAN-settings in. Verwijder de bridge.
nvram

set

lan_ifname

=

eth1

# De LAN-interface

nvram

set

lan_ifnames

=

eth0

# Geen bridge naar wireless device (eth2 niet in lijst)

nvram

set

lan_proto

=

static

# Zet zelf het IP-adres, netmask, gateway en DNS-server

nvram

set

lan_ipaddr

=

192.168.1.220

# WL-HDD is bereikbaar via ethernetkabel op dit adres, mits de aangesloten computer ook op dit subnet zit

nvram

set

lan_netmask

=

255.255.255.0

nvram

set

lan_lease

=

86400

# N.v.t. maar kan geen kwaad
WIFI-settings
Stel nu de WIFI-variabelen in:
nvram

set

wifi_ifname

=

eth2

# De wireless interface

nvram

set

wifi_proto

=

static

nvram

set

wifi_ipaddr

=

192.168.178.35

# Een ongebruikt IP-adres in het subnet: 192.168.178.x

nvram

set

wifi_gateway

=

192.168.178.1

# Het IP-adres van het wireless accesspoint

nvram

set

wifi_dns

=

192.168.178.1

# Het IP-adres van het wireless accesspoint als deze een DNS-server draait, anders DNS van de provider
WAN-settings
WAN bestaat niet op de Asus WL-HDD. Settings worden dus gewist of op defaults gezet:
1

2

3

4

5

6

7

8

9

10

11

12

13

14

15

16

17

18

19

20

21

22

23

24

25

26

27

28

29

30

nvram

set

wan_pppoe_keepalive

=

0

nvram

set

wan_device

=

vlan1

nvram

set

wan_pppoe_passwd

=

nvram

set

wan_lease

=

86400

nvram

set

wan_pppoe_service

=

nvram

set

wan_pppoe_mru

=

1492

nvram

set

wan_gateway

=

0.0.0.0

nvram

set

wan_netmask

=

0.0.0.0

nvram

set

wan_pppoe_demand

=

0

nvram

set

wan_pppoe_mtu

=

1492

nvram

set

wan_pppoe_idletime

=

60

nvram

set

wan_pppoe_username

=

nvram

set

dhcp_domain

=

wan

nvram

set

wan_ipaddr

=

0.0.0.0

nvram

set

wan_ifname

=

none

nvram

set

wan_pppoe_ifname

=
Voer vervolgens een nvram commit uit om de settings weg te schrijven.
Het is nu tijd om het beestje te restarten. Wees er mentaal op voorbereid dat er een kans is dat je na het opstarten niet meer via de ethernetkabel of WIFI in kunt loggen. Niet kunnen inloggen betekent dat je NIETS meer kunt doen met de Asus WL-HDD !
Na een herstart zou het mogelijk moeten zijn om zowel via WIFI als ethernetkabel in te loggen op de Asus WL-HDD.
Inloggen via ethernetkabel: ssh root@192.168.1.220
Inloggen via WIFI: ssh root@192.168.178.35
Tip 1 Locked out: Werken beide methoden niet… oh oh.. je hebt jezelf buiten gesloten! In principe is het apparaat nu waardeloos geworden… De volgende stap zou kunnen zijn om het device in OpenWrt fail-safe mode op te starten, dit is mij echter nog niet gelukt. Gelukkig zit er een bug in de bootloader die de NVRAM-variabelen  (onterecht) terugzet naar factory defaults. Om deze bug uit te buiten moet je het volgende doen:
Verwijder de voeding, plaats voeding doe dit vaak achter elkaar met verschillende tussenpozen. Als je geluk hebt dan kun je na een tijdje inloggen op: ssh root@192.168.1.1 Let op! Dit is een ander IP-adres. Het moge duidelijk zijn dat dit een noodoplossing is, wanneer niets anders meer lukt.
Nu is ook duidelijk waarom tijdens het booten de voeding aangesloten moet blijven. Wordt deze verwijderd in het boot proces dan kunnen NVRAM-variabelen gewist worden!
Tip 2: Herstarten van WIFI
ifup

wifi

&&

wifi

&&

/

etc

/

init

.

d

/

S41wpa
Lees meer over de Asus WL-HDD en OpenWrt
---
Hieronder volgen nog waarden die ik heb gevonden bij mijn werkende Asus WL-HDD in wireless client mode met als besturingssysteem OpenWrt WhiteRussian.
De complete lijst met NVRAM-settings
1

2

3

4

5

6

7

8

9

10

11

12

13

14

15

16

17

18

19

20

21

22

23

24

25

26

27

28

29

30

31

32

33

34

35

36

37

38

39

40

41

42

43

44

45

46

47

48

49

50

51

52

53

54

55

56

57

58

59

60

61

62

63

64

65

66

67

68

69

70

71

72

73

74

75

76

77

78

79

80

81

82

83

84

85

86

87

88

89

et0macaddr

=

00

:

11

:

D8

:

1A

:

4C

:

84

et1macaddr

=

00

:

11

:

D8

:

1A

:

4C

:

84

hardware_version

=

WL300

-

02

-

03

-

01

-

20

lan_netmask

=

255.255.255.0

wifi_gateway

=

192.168.178.1

wifi_ipaddr

=

192.168.178.35

wl0_ssid

=

FRITZ

!

Box

Fon

WLAN

7170

Annex

A
DMESG-uitvoer (kernel messages)
1

2

3

4

5

6

7

8

9

10

11

12

13

14

15

16

17

18

19

20

21

22

23

24

25

26

27

28

29

30

31

32

33

34

35

36

37

38

39

40

41

42

43

44

45

46

47

48

49

50

51

52

53

54

55

56

57

58

59

60

61

62

63

64

65

66

67

68

69

70

71

72

73

74

75

76

77

CPU

revision

is

:

00024000

Enabling

BCM4710A0

cache

workarounds

.

Primary

instruction

cache

8kB

,

physically

tagged

,

2

-

way

,

linesize

16

bytes

.

Primary

data

cache

4kB

,

2

-

way

,

linesize

16

bytes

.

Linux

version

2.4.30

(

wbx

@

ux

-

2y01

)

(

gcc

version

3.4.4

)

#1 Wed Sep 14 17:49:26 CEST 2005

Setting

the

PFC

value

as

0x15

Determined

physical

RAM

map

:

memory

:

01000000

@

00000000

(

usable

)

On

node

0

totalpages

:

4096

Kernel

command

line

:

root

=

/

dev

/

mtdblock2

rootfstype

=

squashfs

,

jffs2

init

=

/

etc

/

preinit

noinitrd

console

=

ttyS0

,

115200

CPU

:

BCM4710

rev

0

at

125

MHz

Using

62.400

MHz

high

precision

timer

.

!

unable

to

setup

serial

console

!

Calibrating

delay

loop

.

.

.

82.94

BogoMIPS

Memory

:

14296k

/

16384k

available

(

1390k

kernel

code

,

2088k

reserved

,

100k

data

,

80k

init

,

0k

highmem

)

Dentry

cache

hash

table

entries

:

2048

(

order

:

2

,

16384

bytes

)

Inode

cache

hash

table

entries

:

1024

(

order

:

1

,

8192

bytes

)

Mount

cache

hash

table

entries

:

512

(

order

:

0

,

4096

bytes

)

Buffer

cache

hash

table

entries

:

1024

(

order

:

0

,

4096

bytes

)

Page

-

cache

hash

table

entries

:

4096

(

order

:

2

,

16384

bytes

)

Checking

for

'wait'

instruction

.

.

.

 

unavailable

.

POSIX

conformance

testing

by

UNIFIX

PCI

:

Setting

latency

timer

of

device

01

:

00.0

to

64

Linux

NET4

.

0

for

Linux

2.4

Based

upon

Swansea

University

Computer

Society

NET3

.

039

Initializing

RT

netlink

socket

devfs

:

v1

.

12c

(

20020818

)

Richard

Gooch

(

rgooch

@

atnf

.

csiro

.

au

)

JFFS2

version

2.1.

(

C

)

2001

Red

Hat

,

Inc

.

,

designed

by

Axis

Communications

AB

.

Squashfs

2.1

-

r2

(

released

2004

/

12

/

15

)

(

C

)

2002

-

2004

Phillip

Lougher

pty

:

256

Unix98

ptys

configured

Serial

driver

version

5.05c

(

2001

-

07

-

08

)

with

MANY_PORTS

SHARE_IRQ

SERIAL_PCI

enabled

Software

Watchdog

Timer

:

0.05

,

timer

margin

:

60

sec

Amd

/

Fujitsu

Extended

Query

Table

v1

.

1

at

0x0040

Physically

mapped

flash

:

Swapping

erase

regions

for

broken

CFI

table

.

cfi_cmdset_0002

:

Disabling

fast

programming

due

to

code

brokenness

.

Flash

device

:

0x400000

at

0x1fc00000

Creating

4

MTD

partitions

on

"Physically mapped flash"

:

0x00000000

-

0x00040000

:

"pmon"

0x00040000

-

0x003f0000

:

"linux"

0x000c0000

-

0x003f0000

:

"rootfs"

0x003f0000

-

0x00400000

:

"nvram"

Initializing

Cryptographic

API

NET4

:

Linux

TCP

/

IP

1.0

for

NET4

.

0

IP

Protocols

:

ICMP

,

UDP

,

TCP

,

IGMP

IP

:

routing

cache

hash

table

of

512

buckets

,

4Kbytes

TCP

:

Hash

tables

configured

(

established

1024

bind

2048

)

ip_conntrack

version

2.1

(

5953

buckets

,

5953

max

)

-

320

bytes

per

conntrack

ip_tables

:

(

C

)

2000

-

2002

Netfilter

core

team

NET4

:

Unix

domain

sockets

1.0

/

SMP

for

Linux

NET4

.

0.

NET4

:

Ethernet

Bridge

008

for

NET4

.

0

802.1Q

VLAN

Support

v1

.

8

Ben

Greear

&

lt

;

greearb

@

candelatech

.

com

&

gt

;

All

bugs

added

by

David

S

.

Miller

&

lt

;

davem

@

redhat

.

com

&

gt

;

VFS

:

Mounted

root

(

jffs2

filesystem

)

readonly

.

Freeing

unused

kernel

memory

:

80k

freed

Warning

:

unable

to

open

an

initial

console

.

Algorithmics

/

MIPS

FPU

Emulator

v1

.

5

diag

:

Detected

'ASUS WL-HDD'

jffs2

.

bbc

:

SIZE

compression

mode

activated

.

PCI

:

Setting

latency

timer

of

device

00

:

02.0

to

64

eth0

:

Broadcom

BCM47xx

10

/

100

Mbps

Ethernet

Controller

3.90.23.0

PCI

:

Setting

latency

timer

of

device

00

:

08.0

to

64

eth1

:

Broadcom

BCM47xx

10

/

100

Mbps

Ethernet

Controller

3.90.23.0

PCI

:

Setting

latency

timer

of

device

01

:

02.0

to

64

PCI

:

Enabling

device

01

:

02.0

(

0004

-

&

gt

;

0006

)

eth2

:

Broadcom

BCM4320

802.11

Wireless

Controller

3.90.37.0

device

eth0

entered

promiscuous

mode
DF-uitvoer (disk gebruik)
Filesystem

          

1k

-

blocks

     

Used

Available

Use

%

Mounted

on

/

dev

/

root

                

3264

     

2608

      

656

 

80

%

/

none

                     

7188

       

20

     

7168

  

0

%

/

tmp
UNAME-uitvoer (systeem informatie)
Linux

OpenWrt

2.4.30

#1 Wed Sep 14 17:49:26 CEST 2005 mips unknown
CPU-info (microprocessor informatie)

root

@

OpenWrt

:

~

# cat /proc/cpuinfo

system

type

  

   

 

:

Broadcom

BCM947XX

cpu

model

  

   

 

:

BCM4710

V0

.

0

microsecond

timers

  

 

:

yes

extra

interrupt

vector

  

 

:

no

hardware

watchpoint

  

 

:

no

VCED

exceptions

  

   

 

:

not

available

VCEI

exceptions

  

   

 

:

not

available
IFCONFIG-uitvoer (network interfaces)
1

2

3

4

5

6

7

8

9

10

11

12

13

14

15

16

17

18

19

20

21

22

23

24

25

26

eth1

     

Link

encap

:

Ethernet

 

HWaddr

xx

:

xx

:

xx

:

xx

:

xx

:

xx

inet

addr

:

192.168.1.220

 

Bcast

:

192.168.1.255

 

Mask

:

255.255.255.0

UP

BROADCAST

RUNNING

MULTICAST

 

MTU

:

1500

 

Metric

:

1

RX

packets

:

41

errors

:

0

dropped

:

0

overruns

:

0

frame

:

0

TX

packets

:

34

errors

:

0

dropped

:

0

overruns

:

0

carrier

:

0

collisions

:

0

txqueuelen

:

1000

RX

bytes

:

4743

(

4.6

KiB

)

 

TX

bytes

:

4227

(

4.1

KiB

)

Interrupt

:

4

Base

address

:

0x8000

eth2

     

Link

encap

:

Ethernet

 

HWaddr

xx

:

xx

:

xx

:

xx

:

xx

:

xx

inet

addr

:

192.168.178.35

 

Bcast

:

192.168.178.255

 

Mask

:

255.255.255.0

UP

BROADCAST

RUNNING

MULTICAST

 

MTU

:

1500

 

Metric

:

1

RX

packets

:

361

errors

:

0

dropped

:

0

overruns

:

0

frame

:

1777

TX

packets

:

222

errors

:

0

dropped

:

0

overruns

:

0

carrier

:

0

collisions

:

0

txqueuelen

:

1000

RX

bytes

:

31701

(

30.9

KiB

)

 

TX

bytes

:

32943

(

32.1

KiB

)

lo

       

Link

encap

:

Local

Loopback

inet

addr

:

127.0.0.1

 

Mask

:

255.0.0.0

UP

LOOPBACK

RUNNING

 

MTU

:

16436

 

Metric

:

1

RX

packets

:

0

errors

:

0

dropped

:

0

overruns

:

0

frame

:

0

TX

packets

:

0

errors

:

0

dropped

:

0

overruns

:

0

carrier

:

0

collisions

:

0

txqueuelen

:

0

RX

bytes

:

0

(

0.0

B

)

 

TX

bytes

:

0

(

0.0

B

)
IWCONFIG-uitvoer (wireless network interfaces)
root

@

OpenWrt

:

~

# iwconfig eth2

eth2

     

IEEE

802.11

-

DS

 

ESSID

:

"FRITZ!Box Fon WLAN 7170 Annex A"

Mode

:

Managed

 

Frequency

:

2.417

GHz

 

Access

Point

:

xx

:

xx

:

xx

:

xx

:

xx

:

xx

RTS

thr

=

2347

B

  

Fragment

thr

=

2346

B

Encryption

key

:

xxxxxxxx

[

2

]

Link

Signal

level

:

-

44

dBm

 

Noise

level

:

-

92

dBm

Rx

invalid

nwid

:

0

 

Rx

invalid

crypt

:

0

 

Rx

invalid

frag

:

0

Tx

excessive

retries

:

0

 

Invalid

misc

:

0

  

Missed

beacon

:

0
ROUTE-uitvoer (network routing table)

Destination

Gateway

Genmask

Flags

Metric

Ref

Use

Iface

192.168.178.0

*

255.255.255.0

U

0

0

0

eth2

192.168.1.0

*

255.255.255.0

U

0

0

0

eth1

default

fritz

.

box

0.0.0.0

UG

0

0

0

eth2