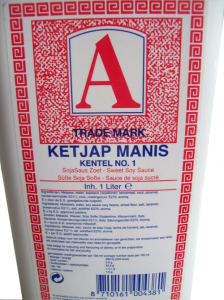 Use this recipe to create your own Sweet soy sauce (NL: ketjap saus) and combine it with for example noodles.
Ingredients (+/- 800 ml sauce)
150 ml Ketjap Manis – Sweet soy sauce
1 onion
2 cloves of garlic
olive oil
1 tablespoon sambal badjak
1 tablespoon soft brown sugar
450 ml + 2×100 ml water
2x swabbed tablespoons flour
Preparation
Squeeze the onion and garlic as fine as possible;
Fry this substance in the oil on low heat till it changes color a bit. Don't let it burn!;
While stirring on low heat, add the sambal and soft brown sugar;
Now add the main ingredient: the ketjap while still stirring on low heat;
Add 450 ml water and warm up till it boils;
Thicken the sauce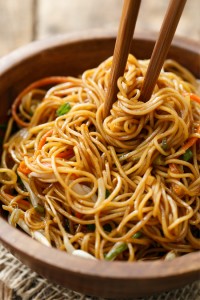 Now comes a bit more difficult part, thicken it without lumps. My favourite way to do this is by using flour. To thicken this sauce I do this in two steps. In between check whether the sauce has the right thickness already or when the sauce is still too thin after two passes, add a third pass.
Add one swabbed tablespoon flour into a cup;
Add 100 ml (hot) water;
Stir it as much as possible;
Remove any lumps;
Add this mix to the sauce
Stir and warm up the sauce till it boils;
Now your sweet soy sauce is ready!